DIGITALISATION FOR ELDERLY AND PERSONS WITH DISABILITIES IN SOCIAL SERVICES
The project, which lasts 19 months (01/10/2022 – 30/04/2024), aims to develop 50 online applications focusing on diagnosis and therapy plan, corrections and training of various mental functions, such as memory, attention, thinking, speech, emotionality, will, motivations, etc. for people with disabilities and seniors, as well as children with disabilities and special needs.
In the process of creating applications, we use the knowledge of neuropsychology, which – through algorithms – we transform from applications in the form of various games, tasks and fun quizzes into standardized results that are authoritative for the further care of experts – psychologists, social workers, nurses and cooperating doctors.
The development of applications also assumes the involvement of elements of gaming, artificial intelligence or virtual reality. The applications will be pilot tested using 100 refurbished tablets in support of the green economy, which will be donated to social service homes, schools for children with disabilities, as well as seniors living in households. Our ambition is to test applications on a thousand participants and to standardize them as an official psychodiagnostic method based on a comparison with an intact general population.
Working together for green,
competitive and inclusive Europe.
INFORMATION ABOUT THE OPENING CONFERENCE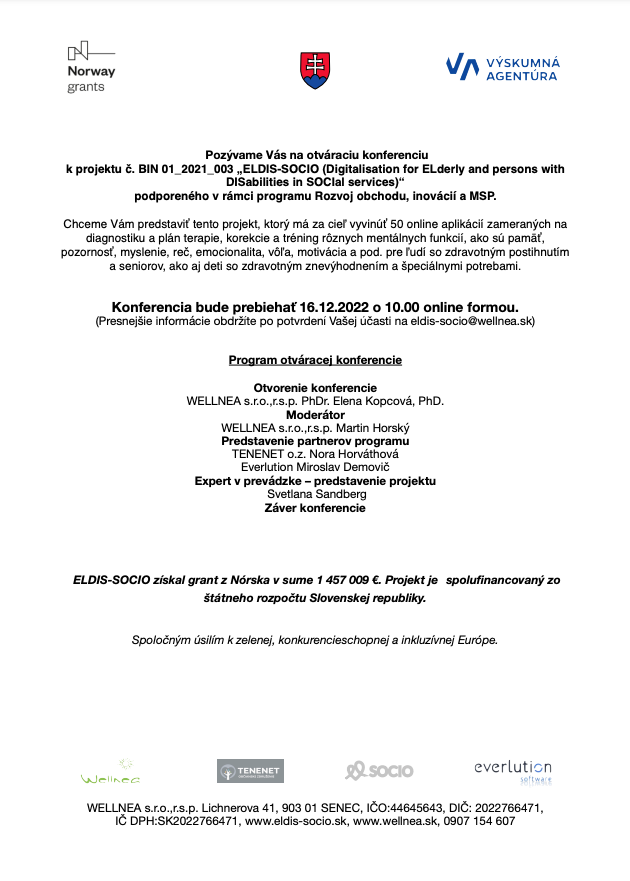 If you want to know more about programmes and projects financed by the Norway Grants in Slovakia, visit www.norwaygrants.sk.
Handbook for the beneficiary and project partner issued by the Program Manager – Research Agency, version 1.1
Dátum účinnosti: 13.12.2022
http://www.vyskumnaagentura.sk/sk/component/jdownloads/send/102-granty-ehp-a-norska-sk-en/1213-prirucka-pre-prijimatela-a-projektoveho-partnera-platna-od-13-12-2022
The Norwegian Grants represent the contribution of Iceland, Liechtenstein and Norway towards a green, competitive and inclusive Europe. There are two overall objectives: reduction of economic and social disparities in Europe, and to strengthen bilateral relations between the donor countries and 15 EU countries in Central and Southern Europe and the Baltics. The three donor countries cooperate closely with the EU through the Agreement on the European Economic Area (EEA). The donors have provided €3.3 billion through consecutive grant schemes between 1994 and 2014. For the period 2014-2021, the EEA Grants amount to €1.55 billion. The priorities for this period are:
Innovation, Research, Education and Competitiveness
Social Inclusion, Youth Employment and Poverty Reduction
Environment, Energy, Climate Change and Low Carbon Economy
Culture, Civil Society, Good Governance and Fundamental Rights
Justice and Home Affairs
The Norwegian Grants are jointly financed by Iceland, Liechtenstein and Norway, whose contributions are based on their GDP.
Eligibility for the Grants mirror the criteria set for the EU Cohesion Fund aimed at member countries where the Gross National Income (GNI) per inhabitant is less than 90% of the EU average.
All projects are co-financed by the State Budget of the Slovak Republic in the amount of 15%.
Ak máte záujem vedieť o tomto projekte viac, môžete nás kontaktovať
Follow Eldis Socio on social media